Whether you're looking to upgrade your network infrastructure, combat emergent cyber threats, or take workplace communication and collaboration to the next level, Crossconnect is the partner you can trust. Every day, we're implementing custom solutions that harness the latest systems and products from Cisco and other industry resources—bringing our clients the peace of mind of a reliable and scalable IT foundation, freeing them up to focus on their business.
Collaboration
Call Manager
Collaboration is Crossconnect's oldest and most mature services offering. We've designed and supported installations as small as 30 users and as large as 10,000+ users. We support and sell a wide variety of products to fit the diverse needs of our clients, offering the full range of Cisco Collaboration technology as well as a wide variety of 3rd-party ecosystems partners.
According to IHS, Cisco dominates the on-premises phone system market, with well over double the sales of the nearest competitor. As such, our clients can be confident that they're receiving an industry standard platform that ensures:
The highest possible interoperability with other vendor's products
Future-proofing of their platform
A robust 3rd-party ecosystem
Best in class scalability, stability and redundancy
---
Contact Center Express
Cisco Unified Contact Center Express ("UCCX") is the call center software for the Cisco collaboration platform. It delivers skill-based call routing for mid-market businesses, serving anywhere between a few agents up to 400 agents. What can it do for your business?
Automatically distribute calls with conditional call routing, call-in-queue, and expected-wait-time messages
Multichannel functionality to interact with customers in your desired manner, such as voice, email, web chat, and social media.
Enhance your call center with features such as workforce management, advanced quality management, and database integration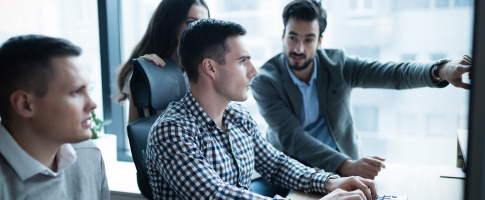 Crossconnect has multiple engineers well-versed in designing and building UCCX environments, and can provide 24/7 managed services for your mission critical contact center.
---
Expressway
Cisco Expressway provides a type of proxy between your network edge and the general internet. Common use cases include:
Allowing the Cisco Jabber softphone to work off-network, without a VPN
Allowing Hybrid Webex Teams (formerly Cisco Spark) integrations to Call Manager
Allowing video endpoint traversal services, to allow diverse networks to speak H.264 compliant video streams
Crossconnect has performed dozens of Expressway installations in complex environments, and we'd love to show you how it can streamline your business communications.
---
WebEx Calling & WebEx Contact Center
Crossconnect is certified in both Webex Calling and Webex Contact Center. With Cisco's Broadsoft acquisition, the Cisco Collaboration reach isn't just on-premises any longer. Whether expanding an existing Call Manager into a hybrid cloud deployment, or starting fresh with an all-cloud install, Crossconnect has the experience to make it happen.
Crossconnect was one of the first Cisco providers to become Webex Contact Center (WCC) certified, and pioneered direct cloud-carrier options into WCC, even before it was supported. Crossconnect can bring that pioneering spirit to your install, too.
8×8 Cloud Calling Solutions
8×8 is a leader in business voice, video, chat, and contact center. Crossconnect is an authorized partner for 8×8, as well as offering managed and professional services on their platform. As a Leader in the UCaaS Gartner Magic Quadrant it fits naturally in Crossconnect's calling solutions.
8×8 offers voice integration with Microsoft Teams natively, so end users can retain their preferred Teams interface – desktop app, web app or the mobile app – to make and receive calls seamlessly via the 8×8 infrastructure with no other app to download, install or manage.
---
API Coding / SDx
Crossconnect engineers have written many commercial-grade applications and integrations into the Call Manager ecosystem APIs. Most notably, many of our recent efforts have been to expose what is traditionally a "superuser" function to admin staff, without actually having to grant superuser access to that person. In addition, our applications take a series of common tasks and assemble them to eliminate misconfiguration errors. Through this, we're moving the needle in improving our clients' system security.
From middle-ware or "shim" software applications to log parsers to pull out Call Manager CDR metrics, we've got it covered. What can we build for your business?
---
Quality Management & Recording
Cisco's rebranded Calabrio offering—referred to as Cisco Quality Management (QM)—is a pairing with Cisco Unified Contact Center Express (UCCX, typically integrated as a call recording tool for UCCX agents. However, its full potential extends to supervisor management of agents, and, with the Workforce Management (WFM) suite, call center agent schedule management. Crossconnect can help your business unlock that potential.
We're also experts in Imagicle's product line, offering advanced capabilities in call queuing, reporting and faxing. Not sure which way to go? We'll help you find the best fit for your business.
---
Video Conferencing
Telepresence/Room Kits
Business is more interconnected than ever before, and Crossconnect can help ensure your company remains on the cutting-edge of video conferencing technology. Through Cisco's Webex Room systems and TelePresence hardware, we can help transform your conference room into a high-tech hub with wireless presentation, digital whiteboarding, and highquality audio and video. Learn more here.
---
SIP Consulting
Nobody knows SIP like Crossconnect. Stemming from experience in writing 3rd-party software integrations, we've since transitioned into consulting SIP integrations into the Cisco platform.
Core competencies include:
Planning large SIP deployments (by large, we mean including a 10,000+ phone deployment with UCCE integration for a Fortune 500 company…so yeah, large!)
Deploying SIP deployments across multi-PBX environments
Integrating Cisco SIP components with non-Cisco SIP components
Complex Cisco Unified Border Element (CUBE) integrations
Custom applications for calculation of toll fees
Custom applications for estimating concurrent call counts; both by voice gateway and CUCM CDR parsing
---
Paging / Emergency Systems
Singlewire Informacast provides phone-to-phone group live audio paging to both Cisco IP phones as well as overhead paging systems. Crossconnect has extensive experience with performing both to-the-phone and overhead paging with Singlewire in complex, mission-critical environments such as health care.
We're also an early adopter of Informacast Fusion, a new product combining the power of mobile and on-premises devices to reach everyone in your organization, every time. We can assist with both mass notification and safety system integration.
---
Webex
Worry-free online meetings? You got it! With nearly 30% of web conferencing market share, Cisco Webex is the leading enterprise solution for a reason—offering industry standard video conferencing, online meetings, screen share and webinars. Want smarter, more interactive collaboration for meetings of all shapes and sizes? Crossconnect can get you equipped with the latest in Webex Room devices. We'd also be happy to introduce you to Webex Share, a palm-sized device that plugs into any TV or monitor to instantly turn it into a wireless presentation screen through the Cisco Webex app.
93% of Fortune 100 companies rely on Cisco Webex products for collaboration, and its easy to see why. Let's chat and find out how Webex can help your company bring people and ideas together.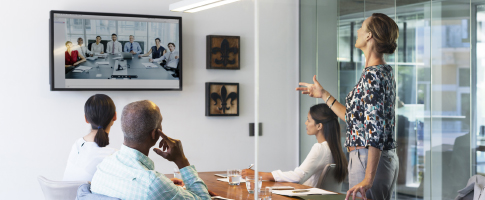 ---
Wallboards
Crossconnect is proud to represent Inova for custom Call Center wallboard application development. We'll help your Call Center managers harness the power of data through delivery of customized real-time KPIs along with multimedia content and corporate information. From LCD and Plasma displays to custom output on mobile devices such as Apple, Microsoft or Android tablets and smartphones, Inova has you covered.
We also produce an in-house wallboard based on standard UCCX reporting tools, that can be quickly deployed and at a reasonable cost. We're here to help you find the right solution for your unique needs.
Datacenter
UCS
Cisco Unified Computing System (UCS) is an integrated computer farm consisting of blade and rack servers and Fabric Interconnects (FIs) connecting ethernet and Fibre Channel. Networking is integrated between multiple chassis, resulting in a more sophisticated and scalable management system. This represents a converged infrastructure, with storage accomplished on a Storage Area Network (SAN). Crossconnect sells and supports NetApp SANs.
We also maintain a CCIE Datacenter on staff to ensure our ability to serve the widest possible range of clients.
---
Hyperconverged
Where traditional UCS might be seen as a converged infrastructure, hyperconverged removes the need for a SAN, instead focusing on striping disk across multiple servers. In this fashion, all disk is available to all servers—in the same way a SAN would have presented it—but without the need to purchase or maintain a SAN. For folks using a traditional converged system, Hyperconverged presents a more resilient and typically less expensive alternative.
Ready to upgrade?
Crossconnect sells and supports Hyperconverged offerings from both Cisco (Hyperflex) and VMWare (VSAN).
HyperFlex
For clients already bought-in to Cisco's UCS platform, and those deploying at a single site, HyperFlex is the optimal choice. It requires a minimum of three nodes and offers a compelling loud-connector model through software integration.
VSAN
For clients that desire a Hyperconverged solution utilizing non-Cisco hardware, or have a more distributed model, VSAN is the right platform. Crossconnect is a VMWare Enterprise Solution Provider, and can assist with all your VMWare datacenter requirements. We maintain two VCPs on-staff to extend maximum expertise to our clients.
---
VMWare Virtualization
Crossconnect employs multiple VCPs, and has a mature VMWare Virtualization practice. Unique to Crossconnect's practice is its experience with implementing ESXi with DevOps and SDN applications. Crossconnect has written and deployed production PowerCLI and Ansible integrations; as well as ACI and vCenter integrations.
---
Microsoft Server Infrastructure
Crossconnect supports infrastructure down through the server operating system, with a professional and managed service practice in the Microsoft Server space. We support on-premise, cloud and hybrid cloud implementations of Active Directory, Exchange, Sharepoint, and most other common Microsoft Server products. In the cloud space, let Crossconnect provide MDM services through Microsoft Intune.
---
F5 Load Balancing & Security

Crossconnect is an authorized F5 partner, with many years' experience in load balancing and Web Application Firewall (WAF) experience.
---
Ansible Automation

In addition to having on-staff programmers versed in many programming languages that can write directly to application APIs, Crossconnect has an Ansible practice for playbook automation.
---
Software Defined Networking
Fabric/SDN – Cisco Application Centric Infrastructure (ACI)
ACI is Cisco's Data Center SDN solution, and the likely future replacement of the current data center infrastructure install base worldwide. ACI empowers admins to fine-tune automation in datacenters small and large. ACI simplifies datacenter networking by removing the complexity of manually setting up a network environment.
Traditionally, different Nexus switches installed in the same environment had to be configured one-by-one. Since ACI treats all configured devices as a single entity, admins can configure them all at the same time through the Cisco Application Policy Infrastructure Controller (APIC). This saves time and money.
ACI delivers functionality through an application-oriented platform. Rather than being bound to VLANs, subnets, routing, and trunks, ACI uses a spine-leaf topology that is both simple and scalable. Crossconnect was an early adopter of ACI, earning the ATP specialization to provide ACI before it was available to the general partner base. We know ACI, and would love to talk with you about how it could transform your business.
VMWare NSX
As the importance of data to every enterprise grows and the threats to that data grow as well, there becomes a need to build data centers in a secure and scalable fashion. VMWare's NSX system provides a ready-made product that can serve as a foundation for this secure and scalable datacenter. NSX delivers these capabilities with a distributed, application aware firewall, network automation, and overlay networking, all software based and independent from traditional networking hardware.
Segmentation and Automation
One of NSX's core capabilities is data center segmentation. NSX delivers segmentation through the use of overlay networking (keep groups of servers in the same subnet regardless of physical location) and distributed security and firewalling features (every host gets a firewall built into the hypervisor's networking stack). And, since manually reconfiguring overlays and firewall policies every time a VM moves would be challenging, NSX can move these policies along with the VM whenever a VM move needs to happen.
Datacenter in a Box
NSX's built-in security and segmentation enables something very interesting: The ability to deploy a 100% virtual datacenter, including all edge network functions (switches are still required). In the past, doing this would have been possible yet foolhardy, as introducing Internet traffic right into your stack of servers would create a security hazard. Now, though, with NSX's segmentation and security features as well as a well-developed suite of virtual network functions from VMWare and all the major networking vendors, this can be done safely and effectively.
Have an environment with KVM based virtualization, containers, or bare metal hardware (or a mix of everything)? Want to extend NSX to your public cloud instances? NSX-T, the latest evolution of NSX, no longer relies on vSphere and is now an independent, standalone product.
Network
Campus Fabric / DNA
Cisco's forward-thinking vision of the network is based around the Digital Network Architecture (DNA). Historically, Cisco has not been well-known for centralized management tools, or with management GUIs—with DNA, Cisco has flipped the script on that notion and has the industry rethinking enterprise networking as a whole.
One of the most interesting components of DNA is SD Access. Using ISE, DNA determines the user's identity. Then, using overlay transports, the layer 3 and layer 2 links can follow the user. In this fashion, the user could maintain the same IP address cross-campus, whereas an IP Address change would've previously been required. This means a consistent user experience can be preserved cross-campus. If that sounds like something that might benefit your organization, let us know—Crossconnect is an early adopter and can advise on deployment that fits your needs.
Learn more about this exciting, evolving technology here.
---
Enterprise Networking
Cisco is synonymous with enterprise networking. Cisco's latest switch offering, which is the largest product launch in Cisco's history, is the Catalyst 9000 series. It is designed for Cisco's Digital Network Architecture, and features innovation for SD Access and Encrypted Threat Analytics, as well as network programmability.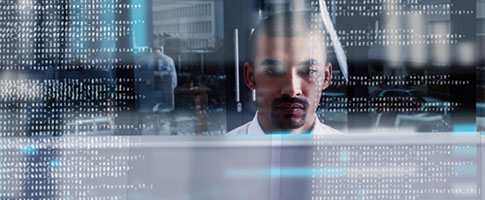 Crossconnect maintains three CCIE route/switch engineers on staff to ensure we have the necessary expertise on-hand for our clients.
---
Wireless
Crossconnect offers sales and support of Cisco, Meraki Wireless and HPE Aruba, as well as conducting nationwide active site surveys. Our experience includes outdoor high-density site surveys and designs for challenging mixed guest/corporate access
Why Cisco?
Easily view and manage your network. Cisco DNA Center is the workhorse behind your Cisco network, allowing you deeper management and insight to your network. You can automate your workflow, enhance the customer experience, and quickly detect and stop threats with policy design and provisioning all controlled from one place. DNA's analytics will show you real-time user and application behavior, giving you that deeper look into your network.

Location Based Services. Cisco DNA Spaces is a scalable locations platform that leverages your existing wi-fi infrastructure to centralize location services. With spaces you can monitor for population density, investigate self-reported incidents, drive a contactless experience, and utilize wayfinding technology for your end users. Spaces can integrate with a wide variety of 3rd party software vendors too, allowing you more flexibility.
Why Meraki?
Wireless without the complexity.Meraki delivers full enterprise-grade wireless without the "nerd knobs" – all the wireless features a large company needs without the high-end skillset needed to build out a traditional Wireless LAN Controller.
Skip the on-premises controller, get more features. Meraki's multitenant cloud controls your APs for you – and allows for great deployment features like plug-and-play. Also, traffic reporting such as Netflow are collected and reported in the cloud, instead of requiring a 3rd-party server.
Seamless Updates Keep You Current.Firmware and dashboard updates are pushed seamlessly from the cloud to all your Cisco Meraki devices without any pre-staging, manual downloads, or trips onsite to install patches.
Why Aruba?
Multiple Deployment Options. Aruba offers quite a bit of flexibility in how to deploy and manage their APs. For users looking for a cloud managed option, Aruba Central can manage both Aruba APs and Aruba access switching. For local control, Aruba's controllers are available in both hardware and virtual options. Virtual options can be deployed in local virtualization infrastructure or in a public cloud environment as needed.
Policy Enforcement Firewall (PEF). The PEF provides full NGFW capabilities on Aruba controllers that allow for internal segmentation capabilities. The PEF integrates with Active Directory, RADIUS, or LDAP service to provide a user-based security policy. The PEF also supports application-based firewall rules, so modern applications which all work over common protocols like HTTPS can be identified and access controlled as needed. For users of Aruba access switching, the controller can also act as an internal segmentation firewall for wired traffic as well – in this mode, the switch is managed and treated like an AP.
Flexible Licensing without Subscriptions. For on-premises controllers, Aruba does not require the use of subscription services. AP licenses, base PEF licenses, and wireless IPS/RFProtect licenses are all perpetual. A few licenses, however, are subscription – cloud-managed APs via Aruba Central are naturally a subscription service, and for the PEF, there is an optional subscription service to enable URL filtering, geoblocking, and IP reputation capabilities. A

Security
Next Generation Firewalling
Crossconnect sells and supports the industry's two leading next-generation firewalls, Cisco (Firepower & ASA) and Palo Alto. Of note, these are the only manufacturers that overlap in our product line—we're fluent in both in order to fit the diverse needs of our clients. We'll help you determine which option is the right fit for your organization.
Cisco
Cisco sets the bar when it comes to complete end-to-end threat solutions. All Cisco security solutions have integrations to share data—and when integrating with Stealthwatch, ISE, AMP For Endpoints, and other major Cisco security products, the results are unparalleled. Learn more about Cisco firewalls here.
Palo Alto
Palo Alto offers one of the most powerful, yet easiest to manage, firewalls on the market. Crossconnect has multiple PCNSEs, Palo Alto's top certification, and provides 24×7 support in its Palo Alto practice. Crossconnect's mature practice includes multiple successful installs implementing Palo Alto Firewalls with Cisco Application Centric Infrastructure (ACI).
Palo Alto TRAPS is a cloud-based endpoint protection client that provides best-of-breed security down to the desktop, blocking malware, exploits and ransomware.
Best Practice Assessments
Palo Alto Best Practice Assessments (BPA) assess your current PA firewalls against hundreds of best practice configurations that Palo Alto has found to ensure the highest security in your PA firewalls. BPA's allow a company to continuously improve their PA firewall configuration and threat surface over time ensuring that every day they are more secure then the last. BPA's will give you an insight into your security control adoption over time as well as give you a list of PA best practices that you are not conforming to and instructions on how to remediate.
---
Advanced Malware Protection
As part of Cisco's next-generation firewall feature set, Crossconnect also recommends running Advanced Malware Protection (AMP). In short, the best way to think of AMP's functionality is like an advanced virus scanner. AMP is available as both AMP for Networks (AMP4N) and AMP for Endpoints (AMP4E). When deployed as AMP4N, the Firewall itself detects and blocks malicious content. When deployed as AMP4E, the endpoint communicates with the AMP cloud and protects against malicious content. When deployed together, a full network and endpoint trajectory can be calculated, allowing the AMP4N console to orchestrate post-attack remediation via AMP4E—all keeping your business humming along smoothly.
---
Identity
Identity Services Engine
Identity Services Engine (ISE) is a foundational Cisco security technology. At it's core, ISE changes the dynamic of networking from trusting based on IP or VLAN to trusting based on who a user is and what type of device they have, offering next-generation secure network access. Consider the following everyday issues:
Instead of trusting by which wired port a user plugged into, can we instead trust by someone's identity?
Can that trust travel with them throughout their network interactions, similar to a security badging system in a building?
We need to validate that a device is a company asset and not a user's personal device, which may carry malware or be more susceptible to attack.
If a device is a company asset, how do we ensure it's running up-to-date security software?
On a wireless network, how can we decrease our SSID count (which increases wireless performance) and eliminate PSKs?
On a wireless network, how can we manage guest access by time-of-day, or allowing a receptionist to grant access?
On a VPN, how can we ensure the same level of control we might see on a wired or wireless network?
ISE is the answer to these questions and more, and is foundational to Cisco Digital Network Architecture (DNA), Cisco's new network management infrastructure. We generally find ISE to be a core component for virtually all Cisco users.
Click the image below to learn more about what ISE can do for your business.
Stealthwatch
Cisco Stealthwatch is a "network as a sensor" tool that uses netflow data to pick up potential malware patterns and allows the entire network to act as a large Intrusion Detection System (IDS). Stealthwatch users are equipped to outsmart emerging threats with industry-leading machine learning and behavioral modeling, all with a solution that grows with their business.
A more recent development in Stealthwatch is Encrypted Threat Analytics (ETA). Prior to ETA, the intelligence provided from Stealthwatch was limited if traffic was encrypted. ETA is available only on the Catalyst 9000 series switches, and using the higher processor speeds in the Catalyst 9000, it assembles pattern data on encrypted traffic, and exports that to Stealthwatch. This creates a digital fingerprint that can be used to identify malicious traffic without decrypting it.
---
Aruba ClearPass

Aruba Clearpass provides robust and highly configurable Identity and Access Management for the modern network. Clearpass is a key aspect of a zero-trust network where all users and devices on the network are authenticated, identified, and assigned policy based on their context in the network. Clearpass supports Wired and Wireless 801.X, Endpoint profiling and device type-based access, Posture Checks, guest and BYOD portals, and much more. Most importantly, Aruba Clearpass is a truly multi-vendor solution and can be integrated with any vendor's network equipment.
Cloud
Microsoft Azure
Crossconnect believes a successful cloud deployment should integrate into the rest of your infrastructure seamlessly. Crossconnect's engineers share an "on-premises" skillset and cloud skillset, allowing for the cloud to be managed like another node on the traditional network. Whether using Cisco, Palo Alto, or Meraki for on-premises security and WAN, these tools should be managed in a uniform manner, whether the server workloads are on-premise or in-the-cloud. By using the same WAN and security virtual appliances in an Azure instance, the same strategy and policies can be carried to the cloud. Crossconnect experience in both on-premises and cloud allows for a best-of-breed Azure deployment experience.

Azure Cloud Infrastructure-as-a-Services and Cloud Platform-as-a-Services
High Availability

When building your own infrastructure, it's almost always necessary to build two to ensure availability. Azure can provide this as a simple add-on feature.

Scalability

Ramp up resources on short notice, in short bursts – without owning the hardware year-around. Ramp back down when the resources aren't needed.

Predictable cost with no refresh cycle

Owning your own infrastructure requires a significant upfront investment and then significant periodic replacement. Outsourcing to Azure eliminates large CAPEX expenses and replaces with an easy-to-adopt monthly fee.

Geographical Reach

Often, not all users are near the primary datacenter – the extra CAPEX could be spent to build one in their region, but Azure already has a worldwide presence and can spin up resources in their area.

Azure Active Directory

Sync your existing Active Directory to the Azure cloud – enabling hybrid services and 3rd-party integrations while moving to cloud infrastructure.
Software-as-a-Service
Microsoft 365

Crossconnect can assist in your move to Microsoft 365, most importantly, moving your Exchange installation to the cloud.